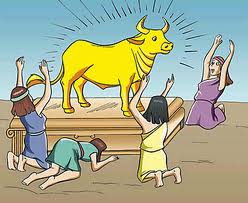 The term "false idol worship" comes from the biblical book of Exodus. Moses had lead the Israelites out of Egypt, and instead of worshiping God, they erected golden statues such as that of a calf and bowed down before them. This excerpt from the bible came to epitomize the worship of anything that is not God, which is surprisingly still very relevant in modern times. Spirituality is at an all time low in our society and many choose not to believe in any kind of spiritual realm, so what was once called worship is now called addiction: when you are focused on something to the point of serving it. Scripture says that serving anything but the one true God will only end in destruction and desolation.
When you compare worship to addiction, the similarities add up quickly. Both create reverence, adoration, obsession and devotion within a person. The real question is, what is the object of worship? Worshiping a perfect, loving God can only result in reward to the life of the spirit, where as worship of anything else is detrimental. We were created to worship God, so anything else in His place, even things that are neutral and have no intelligence such as trees and the sky, can take on a toxic role in our lives if we worship them. However, if we turn our devotion to something that can truly be dangerous, such as drugs or alcohol, not only will the life of our spirits be ruined but our physical health will deteriorate as well, eventually resulting in death if the obsession is allowed to become extreme enough.
Replacing God with anything else will result in pain and destruction. There is nothing that can satisfy our spiritual needs except God. This is true even for those who do not believe in Him. Everyone has a God-shaped hole in their hearts and their subconscious searches for him, even if their conscious mind does not.